About Isabelle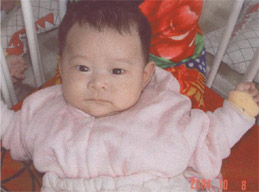 Isabelle at 3 1/2 months!
Here she is, our precious Isabelle! The first pictures were taken of her at only 3 1/2 months old. Check out that gorgeous black hair! The other two pictures were taken in late May when she was almost 9 months old. Isn't she a beauty? We cannot wait to get our hands on her!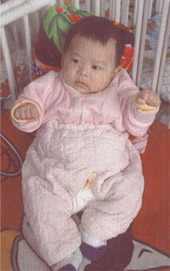 We began our adoption journey in July 2004 intending to adopt a non-special needs baby from China. Several months into the process God began to open our hearts to the idea of a child with special needs. By mid-January we were anxious and hopeful for a call from our agency's Special Needs Program coordinator with a match from their newest waiting child list. On February 7th we received the call that we had been awaiting and were thrilled to be asked about a little girl with a congenital heart defect (ASD). Would we be interested in learning more about her? Are you kidding? We knew she was the one God meant for us before we even saw her referral pictures. When we finally saw her pictures it was love at first sight!

She is described in her records as being a moderate sleeper who "only sucked her fingers and cried when she was hungry." Her favorite activity is playing outside and she is described as being "quiet and has a ready smile." In early April we received an updated report. She is said to like dolls and that her personality is "not very introverted, not very extroverted. She is affectionate and likes to be held." She weighs 15 pounds and is 28" long. We thank God for choosing us to be her family!
Isabelle at 8 1/2 months!
Web site by myadoptionwebsite.com